posted: 13.02.2014 @ 13:41



Il trailer della Ghost in the Shell Night!



Tutti al cinema l'11 e il 12 marzo




Fra un mese Ghost in the Shell farà il suo trionfale ritorno nelle sale, inaugurando il secondo ciclo Nexo Anime!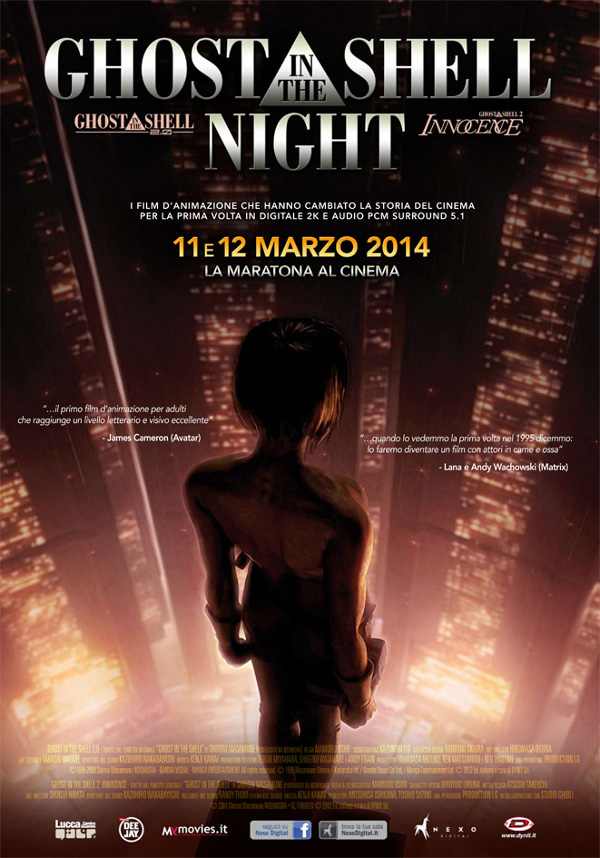 In una sola sera (o meglio in due, visto che l'appuntamento si ripeterà in due giorni distinti, l'11 e il 12 marzo) sfileranno sullo schermo i due capitoli cinematografici della saga creata da Masamune Shirow e diretti da Mamoru Oshii: Ghost in the Shell e Ghost in the Shell 2 – Innocence (un tempo noto anche come L'attacco dei cyborg).

Per l'occasione è stato diffuso il trailer da Dynit e Nexo Anime, eccolo:



Ricordo che il primo Ghost in the Shell sarà proposto nella versione 2.0, con i nuovi effetti speciali e il doppiaggio più fedele, che è anche più "armonizzato" a quello del sequel (Alessandro Rossi e Alessandra Korompay doppiano rispettivamente Bato e Motoko Kusanagi in entrambi i casi).

Per conoscere i cinema che aderiranno all'iniziativa, tenete d'occhio la pagina sul sito di Nexo Digital, attualmente in aggiornamento.

Ad aprile sarà poi la volta di Ghost in the Shell ARISE, ci torneremo più avanti.

Vi ricordo infine che quello portato avanti da Dynit per Ghost in the Shell è un colossale piano di riscoperta dell'intero corpus di opere, al momento sono già disponibili in digitale i seguenti titoli:

FILM CINEMATOGRAFICI:
SERIE TELEVISIVE:





A presto con nuove, curiose anticipazioni!
Ricevi GRATIS nella tua casella di posta le news dal mondo dell'intrattenimento digitale solo con DVDLog, la newsletter by DVDWeb.IT. Non perdere tempo, iscriviti subito!

Cafè 2.5 - I vostri commenti...

Il trailer della Ghost in the Shell Night!