posted: 05.07.2001 @ 20:39



Una Leggenda, finalmente in DVD!



The Doors Special Edition!




 Come promesso qualche settimana fa, quando annunciammo ufficiosamente le uscite Universal di Agosto, vi proponiamo, nel dettaglio, le specifiche dell'uscita di The Doors - Special 30th Anniversary Edition, in programma il 29 Agosto!

 Se non eravate all'Hollywood Bowl, quella sera di luglio del 1968, non potete aver mai visto nulla di simile. I Doors, all'apice del successo, sprigionano tutta la loro straordinaria carica dal vivo nell'unico concerto filmato per intero!

 Live at the Hollywood Bowl: When the Music's over, Alabama Song, Whiskey Bar, Back Door Man, 5 to 1, Moonlight drive, Horse latitudes; da The Celebreation of the Lizard: A Little Game & The Hill Dwellers, Spanish Caravan, The Unknown Soldier, Light My Fire (ext. version), The End.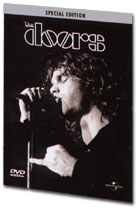 Una collezione di video dal vivo, clip promozionali ed esibizioni televisive della leggendaria band guidata da Jim Morrison, con alcuni rari spezzoni girati dietro le quinte

 Dancer on Fire: Break on Through, People Are Strange, Light My Fire, Wild Child, L.A. Woman, The Unknown Soldier, Roadhouse Blues, Texas Radio and the Big Beat, Love Me Two Times, Touch Me, Horse Latitudes, Moonlight Drive, The End, Crystal Ship, Adagio, Riders on the Storm.

 Un video storico, contenente l'ultima apparizione televisiva dei Doors, trasmessa dalla PBS alla vigilia del famigerato concerto di Miami del '69, conclusosi con l'arresto di Jim Morrison e la cancellazione dell'intero tour.

 The Soft Parade, A Retrospective: The Changeling, Wishful Sinful, Wild Child, Build Me a Woman, The Unknown Soldier, The Soft Parade, Hello I Love You.

 Tra le chicche presenti su The Doors, Special Edition troviamo commenti di Ray Manzarek (tastiere), John Densmore (percussioni), Robby Krieger (chitarra), nuovo video di L.A. Woman (director's cut), filmati realizzati da Ray Manzarek (ancora studente), spezzoni da un assolo di John Densmore, Robby Krieger che interpreta una nuova versione di The End, una nuova edizione di Unknown Soldier & molto altro!

 Il tutto presentato in formato video 4:3 (televisivo), con audio inglese dolbydigital 2.0 & PCM 2.0, sottotitoli (Soft Parade) in francese, tedesco, spagnolo, italiano su un DVD-9 per una durata totale di pił di tre ore! (185 min.)





A presto con nuove, curiose anticipazioni!
Ricevi GRATIS nella tua casella di posta le news dal mondo dell'intrattenimento digitale solo con DVDLog, la newsletter by DVDWeb.IT. Non perdere tempo, iscriviti subito!

Cafč 2.5 - I vostri commenti...

Una Leggenda, finalmente in DVD!