+ Zoom

The Rocky Horror Picture Show - Limited Steelbook Edition (Blu-Ray) (only @dvdweb.it!)


Uscito il 12 Giugno 2014

Scheda tecnica agg. al 09.01.2015


Titolo fuori catalogo




Cosa fai seduto alla scrivania? ALZATI E BALLA!




Lasciatevi andare a questo peccaminoso e disinibito omaggio ai generi horror e fantascienza ed alla musica rock. Godetevi questo sensualissimo sogno ad occhi aperti , insieme a Tim Curry (nella sua leggendaria interpretazione en travestý) a Barry Bostwick ed al premio OscarÔ Susan Sarandon. Interpretate come pi¨ vi piace Time Warp o cantate mille volte Hot Patootie con Meatloaf. A casa o al cinema dove, probabilmente, questo film continuerÓ ad essere programmato ed acclamato per almeno altri 25 anni!


Leggi tutte le news collegate:

Leggi le news collegate...



Questo titolo Ŕ disponibile anche nelle seguenti versioni...

Titolo Originale
The Rocky Horror Picture Show
NazionalitÓ
UK, USA
Anno
1975
Genere
Musicale
Durata
100' circa
Regia
Jim Sharman
Scritto da
Richard O'Brien, Jim Sharman
Interpreti
Tim Curry, Susan Sarandon, Barry Bostwick, Richard O'Brien, Patricia Quinn, Nell Campbell, Jonathan Adams, Peter Hinwood, Meat Loaf, Charles Gray, Jeremy Newson, Hilary Labow, Perry Bedden, Christopher Biggins, Gaye Brown
Data uscita
12 Giugno 2014

Dati errati o incompleti? Segnalacelo!
Produzione
Fox
Distribuzione
Fox
Codice Area
Zona 2 - Europa
EAN
8010312109348
Supporto
Alta definizione - Blu-ray Disc
Audio
Inglese: DTS HD
Giapponese: DTS 5.1
Sottotitoli
Italiano, Inglese, Spagnolo, Arabo, Ceco, Turco.
Formato video
1.78:1 Anamorfico
Risoluzione
1080p (1920 x 1080)
Confezione
N/A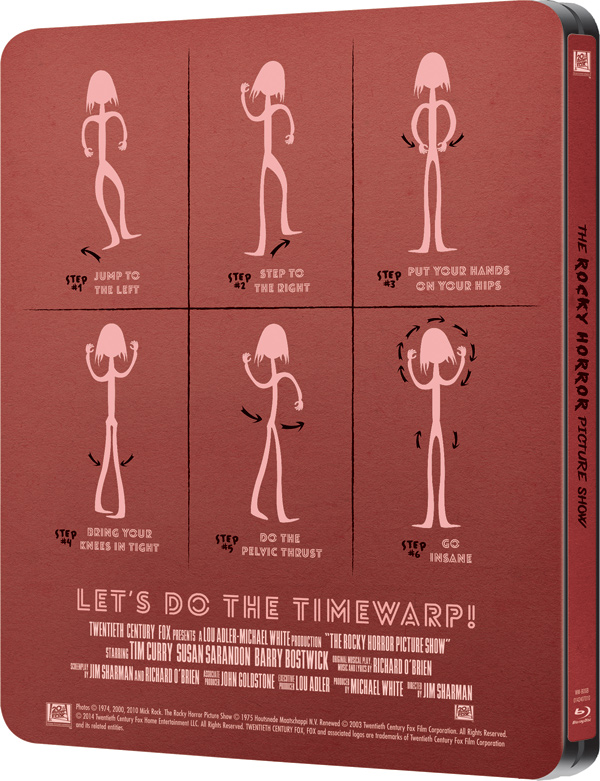 Blu-Ray Disc
Proiezione di mezzanotte: Rivivi l'emozione di una vera e propria proiezione animata di The Rocky Horror Picture Show grazie al Picture in Picture!


Rocky-okE: il karaoke delle canzoni dell'originale colonna sonora


Commento di Richard O'Brien e di Patricia Quinn


Non Sognarlo, Vivilo: "Shadow Cast" per il 35░ anniversario - prima parte


Anticipazioni: "Shadow Cast", per il 35░ anniversario - seconda parte


Intervista a Mick Rock, il fotografo che meglio interpreta gli anni Settanta


Fotografie di Mick Rock - gallery in HD


Scene musicali tagliate


Outtakes


Time Warp: esibizione alternativa


Trailer cinematografico


Galleria materiale pubblicitario e manifesti
CafŔ 2.5 - I vostri commenti...

The Rocky Horror Picture Show - Limited Steelbook Edition (Blu-Ray) (only @dvdweb.it!)


Re: Info
[The Rocky Horror Picture Show - Limited Steelbook Edition (Blu-Ray) (only @dvdweb.it!)]

By: jfk78

Posted: 29.05.2014 @ 00:46


No, non Ŕ numerata, ma sicuramente almeno per me non Ŕ importante e non si troverÓ per molto a questo prezzo
Info
[The Rocky Horror Picture Show - Limited Steelbook Edition (Blu-Ray) (only @dvdweb.it!)]

By: lupus72

Posted: 19.05.2014 @ 09:20


Cortesemente potrei avere qualche notizia ulteriore su questa esclusiva?
Cover, se numerata ad esempio.
Grazie